The past few months of 2020 have been trying for youth and families as they try to understand and navigate all of the uncertainty of a pandemic, natural disasters, and most recently the public slaying of George Floyd. Any of these events alone could be a reason for children to have questions, explore feelings, or want solutions. As a positive youth development organization 4-H is dedicated to helping youth become positive and productive members of society by encouraging them to use their heart, hands, health, and head for the betterment of their community, country, and world.  
In Maryland 4-H the vision is "to be recognized as a leader in youth development, inspiring youth and adults to learn, grow, and work together as a catalyst for positive change."  As our country begins to heal, rebuild, and move forward from this unprecedented time, parents and guardians are encouraged to take an active role in the positive youth development of their children. This article contains some tips and strategies to help families cope with unforeseen circumstances. 
Create a Safe Place for Open Communication - Experts suggest that families engage in open dialogue sessions.  In open dialogue youth and adults talk and listen to each other. The goal of these conversations is for parents to show they can listen without offering criticism or judgment. Dr. Alex Chan from the University of Maryland suggested that parents take time to "connect before they correct". This means that parents are encouraged to take time to connect on a personal level to learn about their thoughts and feelings before "fixing" a problem. Every successful conversation between parents and youth reinforces to youth that parents can engage in tough topics in a safe and predictable manner. 
Allow for Open-Ended Questions - Dr. Chan further stated that once the conversation begins youth should be allowed to vent, react, or share as they feel appropriate.  The goal of the conversation is to understand what is on the mind of the youth involved.  Be sure not to lead the youth in a particular direction. Ask open-ended questions. Open-ended questions can be a tool to help youth open up, dig deeper, and encourage richer conversations. Examples of open-ended questions could be: 
What do you think about what is happening?
What might you change about this?
Can you think of a time when?
What is your plan to make a difference/ to help others/ to change?
I wonder how it would feel to…
Photo by Cliff Booth on Pexels.com
Listen with curious intention. Once the conversation is started, experts suggest that the parent/guardian act as guides through the process. The task is for them to listen to be curious about the feelings of the speaker and take note of the emotions that are shared. After the emotions are revealed, deal with them directly, if it appears your child needs further assistance. Older youth may not be open to adult assistance unless they appear particularly overwhelmed, or if they ask you directly to offer advice. 
If the conversation is based on racism and diversity, Maryland 4-H offers resources and tools for navigating the subject of Diversity, Equity, and Inclusion from Maryland 4-H, click the link below: htps://extension.umd.edu/4-h/resources.  
Child Mind Institute is an organization that offers research-based information and child brain mental health. For information on speaking with youth about talking to children about racism and violence click the link below: For information and strategies to help youth deal with specific emotional concerns, the Child Mind Institute offers resources for a wide variety of family-based concerns. Click the link to find out more. https://childmind.org/audience/for-families/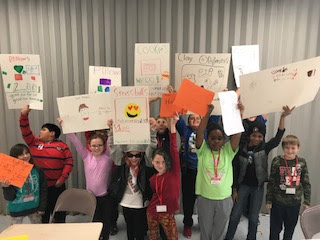 Be a catalyst for positive change.  Help youth identify actions they can do to address a need in their own community.  Choose a small, achievable step they can take to gain a sense of control over their situation and the ability to contribute through civic engagement.  Encourage the child to suggest actions they themselves would like to take as a service or awareness project or help them to find organizations to join or donate their time or money. While they are helping their community, youth build life-skills such as resilience, self-esteem, strategic thinking, and optimism for the future while improving their own health and academic success (Jain et. al. 2019).
References:
https://childmind.org/article/racism-and-violence-how-to-help-kids-handle-the-news/
https://childdevelopmentinfo.com/communication/tips-for-encouraging-open-communication-in-the-home/#gs.7c5kke
https://coolmompicks.com/blog/2017/04/02/open-ended-questions-to-ask-kids/
https://carrotsareorange.com/open-ended-questions/
Civic Engagement Among Youth Exposed to Community Violence: Directions for Research and Practice in Journal of Youth Development/ Vol 14. Issue 1, DOI 10.5195/jyd.2019.596